If I could transfer the thoughts in my head at any one given time onto a blank page, it would have lots of glitter, blobs of ink, different wavy lines coloured like the rainbow, black lines across the page and pink stars as a border line. This is what it feels like to be an overthinker. There is usually so much going on in my little head. If my blank page analogy didn't give you a picture clear enough about how it feels to overthink, here are 7 confessions of what I go through daily.
1. Finding 'hidden' meaning in almost everything
Sherlock Holmes must be an ancestor of overthinkers. Remember how he could find clues from what the normal mind would just ignore? Well, that is what overthinkers do too (excluding solving crimes with our overanalysis) If I do not get an immediate text response, I start to go over what I could have done to the person. Do not even get me started on emojis. I have assigned detailed meanings to each emoji on earth.
2. Extreme pessimism or optimism
After a date gone well, an overthinker can start to play out how the proposal will go and what she will call their fourth child. In the case that an initial meeting goes wrong, I deconstruct what I may have said, worn or hinted to make the day turn out horrible.
3. It is difficult to sleep
I find it difficult to sleep because I am still struggling to forget the moment I went to dye my hair red in my second year of campus and it turned out pinkish maroon  instead. It takes years for embarrassing moments to become funny to me.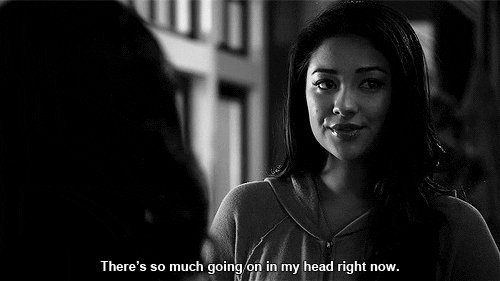 4. Perfectionism
Everything. Must. Go According. To. Plan
I am never late to meetings, have mild O.C.D and I am rarely spontaneous. I always think ahead. Being abrupt has its consequences. It is for this reason that I know I will make a strict mother (sorry future offspring).
5. Decisions at social meetings are a chore
Whenever my friends and I go out to a restaurant (which they obviously picked first), I always wait to see what they will order before making mine. I once looked at a menu for 15 minutes at a friend's birthday dinner and just asked her to decide my order for me. Long menus make me nervous! Deciding where to eat or meet up is equally draining.
6. Limited concentration
I may be having a conversation with a friend and find myself discussing something completely unrelated. In other instances, I just drift into my own thoughts when I am around people. I have no clue how my friends have kept up with me for so long.
7. Paranoia
If I see people look at me in town or in church, I always assume they have something negative to say or are talking about me behind my back. Nobody can be trusted.
All in all, I am working on this flaw of overthinking. Baby steps. If you are an overthinker or related to any of my confessions, please let me know how you cope in the comment section.
Have a great weekend!
Photography by Bobo Visuals